Wed, 05/05/2010 - 00:53
Is carbonating your own tap water an earth-friendly gesture?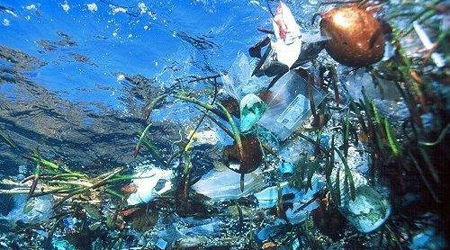 Photo posted on the Facebook group Plastic=Pollution by Matyas Kelemen
Here's a little newsroom insider secret: one of the best things about France 24 are the water fountains tucked away in various corners of the building. What's so great about them? Instead of just spurting out chilled water, like most office drinking fountains, it can also switch to hot water and - best of all - fizzy carbonated water.
OK, so that's more of a silly tidbit than an insider secret. But don't underestimate the importance of an endless supply of cool, sparkling water, ready to send an instant tingle down your spine, in a hot stuffy newsroom.
In case you're wondering what a carbonated water fountain has more than a fridge full of bottled Perrier, know this: according to a 2006 Swiss study (read the full report here: http://www.trinkwasser.ch/fr/html/download/pdf/iep3.pdf), bottled water is 100 to 1000 times less ecological than tap water.
The study takes 3 factors into account - transportation, refrigeration and packaging - and its conclusions are pretty damning for bottled water. Here are just few reasons why:
-
Plastic bottles take 700 years to begin composting
-
80% of plastic bottles are not recycled
-
Bottling and shipping water is the least energy efficient method ever used to supply water
-
24 million gallons of oil are needed to produce a billion plastic bottles
So. Suddenly the France 24 magic sparkling water fountain seems a little more interesting, right? And though it's true one can't very well carry around an office water fountain around all day, there do exist smaller, more kitchen-oriented alternatives. A company called SodaStream markets counter-top appliances to make carbonated water, and even various soda drinks, at home. For an idea how it works, watch the video below.
I must say I was a little skeptical when my gadget-crazy boyfriend first brought the contraption back home. But after a first-use mishap that involved me spraying fizzy water halfway across the kitchen (the instructions say the machine is safe to use from age 5 and over… That says a lot about my 4 1/2 year-old manual skills), the water carbonator turned out to be a practical, simple solution to have fizzy water at hand at all times. The result tastes fine, very much like standard brands of carbonated water (not natural gas mineral water, whose bicarbonate bubbles are usually finer and slightly salty). I've stayed away from the chemical-looking soda flavours, but on a very silly impulse experimented with carbonating various other liquids, like orange juice (why not) and coffee (absolutely disgusting).
Clearly, water carbonators aren't a one-stop solution for the world's waste and water pollution problems, but they do offer one way of cutting down on our plastic consumption and resulting waste output. What's more, SodaStream says its reusable plastic bottles are Bisphenol-A (BPA) free (for more on BPA in plastic and its potential health risks, see http://www.scientificamerican.com/article.cfm?id=bpa-study-plastic-chemica)
Home-made soda, anyone?
Tags for all blogs :
Comments or opinions expressed on this blog are those of the individual contributors only, and do not necessarily represent the views of FRANCE 24. The content on this blog is provided on an "as-is" basis. FRANCE 24 is not liable for any damages whatsoever arising out of the content or use of this blog.