Fri, 05/07/2010 - 11:56
Google Maps tracks oil slick's devastating spread in Gulf of Mexico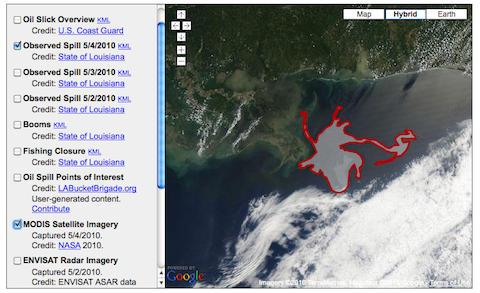 I stumbled across a pretty neat Google feature that won't exactly help us French-at-hearts improve our green credentials, but I found it an eye-opening discovery, so in this blog it goes.
You may have heard of Google Crisis Response, a ad-hoc web page set up by Google in respnse to major natural disasters , like the earthquake in Haiti (which included a missing person search engine and links to NGOs leading relief efforts).
In an effort to raise awareness and keep people informed during the ongoing oil spill in the Gulf of Mexico, Google has set up a crisis page (http://www.google.com/crisisresponse/oilspill/) where you can track the slick's devastating spread via Google Maps.
The page offers various interesting map overlays, combining NASA satellite images (MODIS) with Web user's photos, videos and eyewitness accounts, for a real-time view of the magnitude of the disaster.
The feature which most drew my attention was the the "points of interest" map, which groups together a wealth of information (first-hand accounts, news wires, scientific data) on the spill and its impact. I learnt, for example, that the oil spill is being used as a testing ground for "a new technique where a potent mix of chemicals is shot deep undersea in an effort to stop oil from reaching the surface (…) Crews battling the spill already have dropped more than 156,000 gallons of the concoction into Gulf waters" (J. Dearen and A. Henry, AP).
Hmm. Thousands of tons of oil AND thousands of gallons of a "secret" chemical mix. I don't know about you, but I'm not sure whether Gulf area eco-systems will be able to recover anytime soon.
Tags for all blogs :
Comments or opinions expressed on this blog are those of the individual contributors only, and do not necessarily represent the views of FRANCE 24. The content on this blog is provided on an "as-is" basis. FRANCE 24 is not liable for any damages whatsoever arising out of the content or use of this blog.